Product description
Huatai HA4600/RF series is the narrow-band multiplexing EDFA which suitable with CATV application. This EDFA build-in one unit 1550nm direct modulated CATV transmitter used in inter cutting local VAD service. Build-in WDM multiplexing TX optical signal and External input optical signal of the main road then enter EDFA amplification, to server the local users. In order to avoid TX output optical power and the external input optical power does not fit the main road interfere with each other, the output power of the TX through the build-in VOA, from front panel adjust and set. The whole unit is concision, install and debug convenient. Providing high-quality, low-cost solution for all-optical relay 1550nm optical CATV systems, second-grade service area or administration village inter cut local VAD service.

Product features

EDFA working wavelength cover with whole C-Band(1528~1564nm)

EDFA adopt LA, low input, ensure main road optical input≥0dBm, all have favorable system CNR

Three kinds EDFA gain spectrum flatness optional:
SCH single channel
F10 gain flatness, ≤±0.5dB
F20 gain flatness ≤±1.0dB

DMTX adopt high linearity, with cooling DFB laser, pre-distortion compensation

DMTX option ITU wavelength, wavelength adjustable

DMTX output optical power through the built-in VOA, from the front panel adjustments and settings. To avoid the interferes caused by mismatching of the optical output power between TX and main line signal from outside

Laser APC, ACC, ATC control

Standard RS232 communication interface, prefect SNMP network management function

Excellent P/P ratio.

Main application

CATV value-add service

Second-grade service area (substation, sub head-end), inter cut local program, IP/QAM, VOD.

Villages and towns, administration village inter cut local individuation program and frequency modulation (FM)

Opto-electrical Diagram

HA4600/RF-T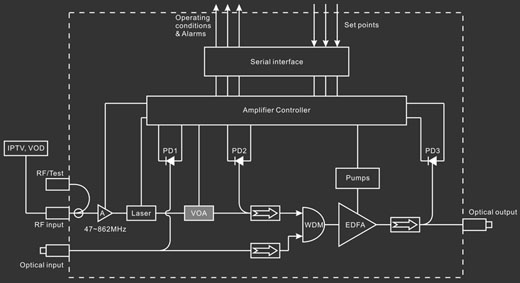 Note: Optional multi-port optical output

HA4600/RF-O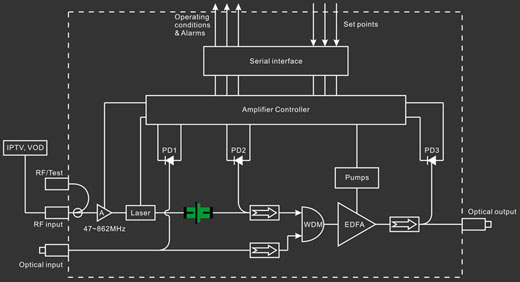 Note: This type is not recommended, as the DMTX output power is not convenient to adjust.

Network application diagram