Product description
Huatai HA5200 series C-Band line-amplifier EDFA (also knows as relay EDFA), is designed for the application of single channel or 1~8 continuous ribbon channels (ITU wavelength). Fiber CATV system operates generally in single wavelength that has no strict requirement on gain flatness. In order to reduce the effect of CNR deterioration caused by EDFA, input power should be as high as possible to make EDFA operate in saturated output power. The typical value of input power is >+3dBm.
HA5200 relay EDFA (Low-Input type) adopts noise filtration technology in the optic path, and can filter spontaneous radiation effectively. When the input is 0dBm, its CNR can reach 49.5dBm, applied in sub head-end and line relay.
Huatai is the famous manufacturer of EDFA. HA5200 adopts the world's top class pump laser and America OFS erbium-doped optical fiber. Perfect APC, ACC and ATC control, excellent design in the ventilation and heat-dissipation ensure the long life and high reliable work of pump laser. RS232 and RJ45 offer serial commutate ion and SNMP network management port. The LCD at the front panel offers the work index of all equipment and warning alarm. Optical loss and laser closing automatically provide safe protect of the laser. All the optical port can be installed in the front panel (also can be in the back panel if customers specify).
Huatai product, for its high quality, high reliable and high cost performance, is the ideal choice of the system integration and system operation.

Product features

1540~1563nm operating wavelength

Extra low noise index

High output, high reliability

APC, ACC, ATC controlled selection (HA5200/P)

Powerful RS232 supervisory instruction

Three exterior option: 1U (19" stander), 3D (12.4", 3U, Desk-type) and modulator

1U and 3D exterior, offering status appearance and diagnosing fault with LCD, standard RS232 communication interface, SNMP network management function

Application of 3D models to adapt to laboratory

Excellent P/P ratio

Main application

In the original 1550nm optical system, all 1310nm optical transmitters can be cancelled in the second grade service area with 0dBm receiving power. Instead, HA5200 can be adopted to carry out full optic relay and then achieve large acreage cover of all the service area.

Over-long trunk with low-input

AM CATV

Digital CATV

DBS & MMDS

FTTx PON

Laboratory application

CNR degradation curve table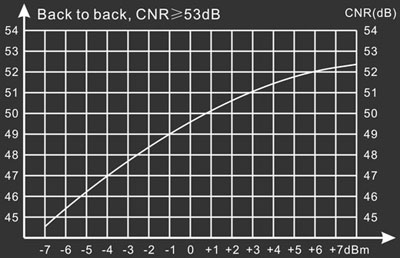 Opto-electrical diagram

Optical port mode M4 (with input & output monitor port)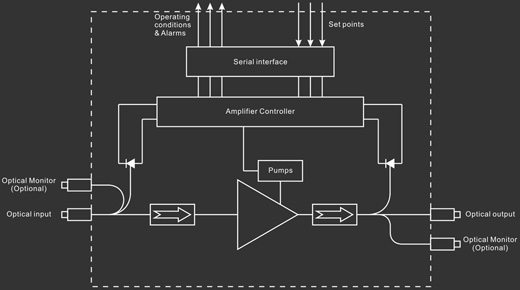 Optical port mode O4 (four ways optical output)