Product description
SBA4100-FM02 is a full-function optical booster with digital control electronics, adopts 70×90×15mm MSA compact package. It is featured with high reliability, superior optical performance and compact reasonable configuration by Industrial standard, creating the most flexible and variable low-cost amplifier in the market. This module is suitable for multiple network application, especially the application that requires 40GB/S transmission speed.
SBA4100-FM02 full-function optical booster module adopts the standard version of single channel and narrow bandwidth. The module uses high performance pump laser that with cooling function (also can use high performance non-cooling pump laser). A standard 30-PIN electric connector (HIROSE DF11-30DP-2DSA) allows the simple electric connection.
SBA4100-FM02 full-function booster EDFA module, main installed behind the optical transmitter to increase the output power of the transmitter and extend the signal transmission distance.


Product feature

With Digital Control Electronics ( Full Functiion )

APC,ACC mode

RS-232 standard communication interface, (Optional I
2
C )

Output power 13~23dBm optional

MSA compact package (70×90×15mm)

Low power consumption

Low cost

Wide operating temperature range

Main application

Metropolitan and access networks

CATV

Single-channel or DWDM sub-systems

Optical Add/Drop and Cross-Connects

Transmitter and Receiver Amplification

Power equalization and flexible pre-emphasis

Functional diagram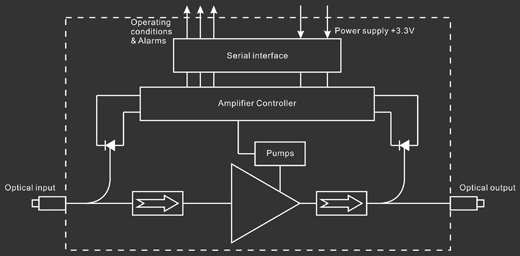 Dimensions