Product description
SPA4300-FM01 is a full-function single channel Pre-Amplifier EDFA module with digital control electronics, adopts subminiature 40×70×12mm compact package, combined with artistic package and best optic performance, creating the best flexible and variable low-cost amplifier in the market. This module is suitable for multiple network application, especially the application that requires 40GB/S transmission speed.
SPA4300-FM01 full-function fiber optical amplifier module , uses high performance non-cooling pump laser, adopts the standard version of single channel and narrow bandwidth. A standard 6-PIN electric connector (HIROSE DF11-6DP-2DSA) allows the simple electric connection.
SPA4300-FM01 full-function Pre-Amplifier EDFA module, main installed before the receiver to improve receiver sensitivity and extend signal transmission distance.

Product feature

With Digital Control Electronics ( Full Functiion )

APC,ACC mode

RS-232 standard communication interface, (Optional I
2
C )

15dB, 20dB, 25dB, 30dB, Gain optional

Small form factor package (40×70×12mm)

Low power consumption

Low cost

Wide operating temperature range

Main application

Metropolitan and access networks

CATV

Single-channel or DWDM sub-systems

Optical Add/Drop and Cross-Connects

Optical receiver power amplification

Power equalization and flexible pre-emphasis

Functional diagram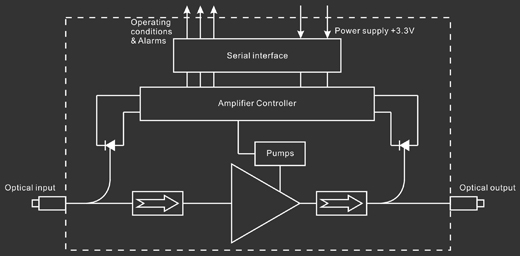 Dimensions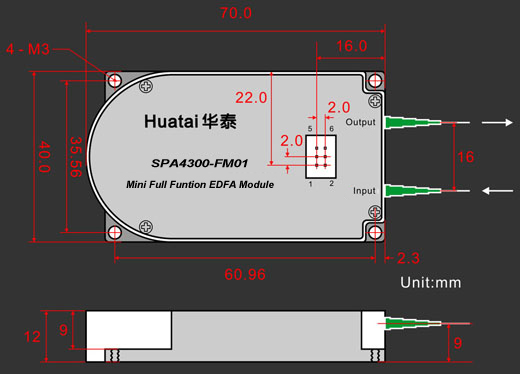 Electrical 6-Pin Assignments
| | | | |
| --- | --- | --- | --- |
| Pin | Definition | Pin | Definition |
| 1 | RS-232 Serial input | 4 | Alarm status |
| 2 | GND | 5 | GND |
| 3 | RS-232 Serial output | 6 | Power supply +3.3V |
Note: 6-Pin type: HIROSE DF11-6DP-2DSA